Our Story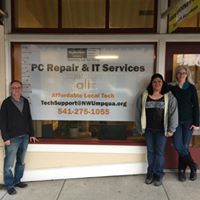 Our story begins with our founder Shawn Romine happily employed at The Ford Family Foundation supporting their technology so they could excel in their mission of supporting rural Oregonians. One day he was asked to volunteer his time installing a donated printer to Battered Persons Advocacy in Roseburg, OR – a task he happily accepted. He was impressed with their mission and the dedication of the staff, but was taken aback by the disarray of their technology. He found PCs filled with viruses and malware, no central storage for documents, no standard workflow tools to improve efficiency. The Executive Director at the time informed him that they had tried to obtain IT support but it was very expensive and did not resolve the issues, therefore they were resigned to living without. How can I help? were the words that launched this social enterprise of NeighborWorks Umpqua Business Service Group PC Repair & IT Services (NWUBSGIT) with a mantra of Affordable and Ethical.
Affordable. We do not maximize our profits at the expense of your need for IT expertise. It is up to us to find the policies, tools, and business structure to offer you the services you need at an Affordable rate. One way we do this is by using a Sliding Scale Rate based upon gross revenue. This combined with our technology toolset customized for you to maximize capability AND budget allows us to offer you services traditionally only available to those with enormous resources.
Ethical. We do things differently than some consultants. We recommend solutions that benefit you rather than maximize our revenue. We are not a reseller of any products, meaning we do not receive any percentage of any software or hardware we sell to you. We do this to ensure we are always making the best recommendations that benefit you. We are always truthful, even if it means someone else might get your business. We are not all knowing, and we admit our mistakes. We do not cover them up, and will fix them at no charge to you.
We want you to be a part of our story. Let us help you with your technology needs, as you help us support our mission to provide quality, Affordable & Ethical IT services to our communities.
740 SE Cass St
Roseburg, OR 97470
541-275-1055